Let's face it (no pun intended), a chemical peel sounds SCARY.
But it's actually a great way to rejuvenate the skin on your neck, face, or hands. What happens is that a chemical lotion is applied to your skin, which makes it "blister" and eventually peel, leaving behind smoother, fresh, clean skin.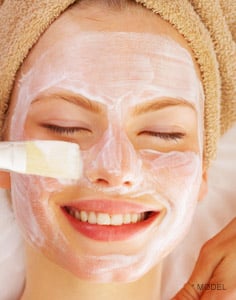 These results-oriented treatments are the ultimate in skin rejuvenation. Peels promote cellular turnover, maximize skin's elasticity, reduce the appearance of sun damage, hyper pigmentation, fine lines and wrinkles. These peels can be done on the face, neck, or hands; other results can be:
Reduced fine lines under the eyes and around the mouth
Improved appearance of mild scars
Treatable for certain types of acne
Reduced age spots, freckles, and dark patches (melasma) due to pregnancy or taking birth control pills
Improved look and feel of skin
A series of treatments will give you long lasting results that are non-invasive.
We have a lot of different organic peels to choose from: vitalize, salicylic, rejuvenize, vi peel, glyocolic, pomegranate, and other seasonal or special items. Peels are popular because THEY WORK. And we have a lot of different "flavors" to choose from. We'd love to give you a free consultation on this treatment–we promise you'll love the results.
Contact us today for your free, expert consultation.